Roll over image to zoom in
Description
Say NO to hunchback and back pain and HELLO to correct posture!
DESCRIPTION
🔶Magnetic Posture corrector is a great way to make sure your back and shoulder area is in the correct posture.
🔶This helps prevent pain, discomfort, and major problems related to the back, spine, shoulder, and neck.
🔶It is ideal for people suffering from spondylitis, Scoliosis, Spondylolisthesis, Nerve Damage,` and Thoracic Outlet Syndrome.
🔶The brace has a front-loading plastic buckles that help you adjust it as per your shoulder posture.
🔶The segment-first double straps provide lumbar support allowing better comfort.
🔶It is very lightweight and can be easily worn daily under clothing.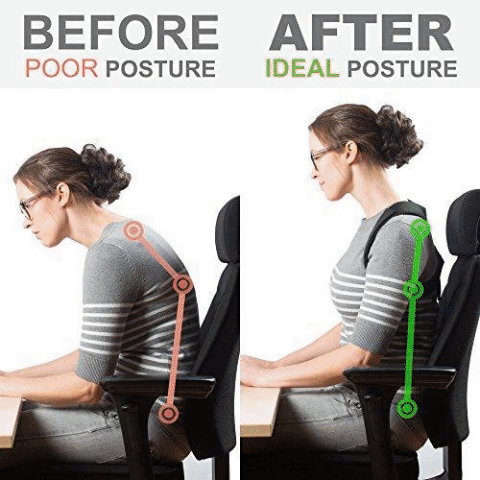 FEATURES
Made of high-quality breathable neoprene-The stretchable Neoprene, nylon, and cotton blend is so breathable it feels like a second skin and it's Machine Washable.
Magnetic therapy of pain relief- It has 12 premium magnets that provide magnetic therapy to promote correct posture by supporting mechanotherapy through muscle memory training.
Adjustable shoulder straps to prevent slouching- Back braces are hard to hide but the Magnetic Therapy Posture Corrector is virtually undetectable. Its padded adjustable straps are ultra comfortable and the support system helps energize your neck, shoulders, and back. 
Improves posture and aligns the spine- The adjustable Velcro straps allow a firm grip and prevent it from slipping down. It is made of high-quality breathable and porous neoprene and reinforced cross and double stitching.
HOW TO WEAR
BENEFITS
Corrects your posture
Makes you look tall and confident
Relieves back pain
Wear it anywhere, anytime
Undetectable under clothes
Easy and comfortable to wear 
PACKAGE INCLUDES
1 X Magnetic Posture Corrector