Roll over image to zoom in
Description
Step Into Summer With Something Sharkingly Cute!
Give your feet relief from walking on hot sand by wearing our beautiful SharkyToes. With its thick and soft sole, the SharkyToes are your perfect pair of slippers to wear while you're out and about.
What makes the SharkyToes even better is its cute and eye-catching design, that everyone will love. Plus, it comes in all the colors of the rainbow, giving you the option to choose the perfect one for you.
Sleepers like no other
Cute Design - The SharkyToes look and style are just simply irresistible. The fun design makes the SharkyToes perfect for both teens and adults to wear during hot summer days.
Anti-Slip Bottom - Our SharkyToes come with an anti-slip bottom, keeping you firm to the ground. This way, you can keep yourself safe when walking through sand or puddles.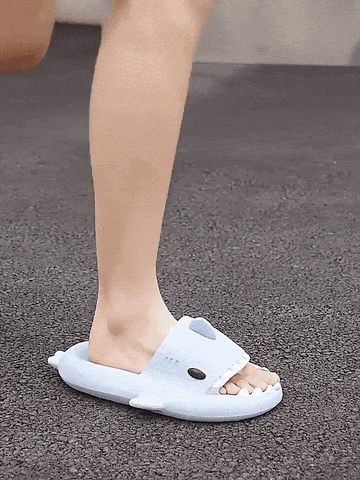 Durable Material - These SharkyToes are designed with the highest quality of materials, making them last for years. The thick sole is set to cushion your feet for a long time without signs of cracking or breaking apart.
Soft And Comfy - Our premium SharkyToes are made to give your feet unmatched comfort when walking. Their unusually thick soles are like firm pillows that are amazing to have on your feet all day.
You will love to slip in these comfortable and unique slippers after work! And if not, you can return them within 30 days for a full refund - no questions asked!

What are you waiting for? Get your Sparkysharks now while supplies last and experience the excitement that thousands of customers have experienced with their new pair of slippers!
Payment & Security
Your payment information is processed securely. We do not store credit card details nor have access to your credit card information.